WHEN YOU GO:

Old Quebec, Canada
Getting There: Depending on your departure city, flights to Quebec (airport code YQB) are available via American Airlines, Air Canada, and Canadian Airlines. All the major car rental agencies are represented there (see Travel Info). You can also reach Quebec within a day's drive from Boston via US Interstate 93 to the Canadian border, and then Canada's routes 55 and 116 to Quebec. Quebec is approximately three hours drive from Montreal, which has a larger choice of flight connections.
Staying There: There is a wide variety of lodging alternatives within Old Quebec, as well as within the neighborhoods within a 1-mile bus ride or walk from the city walls. You can use the WWW sites below to explore the alternatives. A good source for lodging recommendations is Fodor's Montreal & Quebec City, available through the amazon.com link below. All the lodging establishments speak English.
My wife and I were very pleased with the small hotel (18 rooms) which we discovered near the Chateau Frontenac. Almost half the rooms have an excellent view of the St. Lawrence River across Terrasse Dufferin and we found the prices are generally more reasonable than those of other hotels in Old Quebec. The excellent location is within 10 minutes walk of most of the major sites. Hotel Chateau de la Terrasse, 6 Place Terrasse Dufferin, G1R4N5, tel. 418/694-9472, fax. 418/694-0055.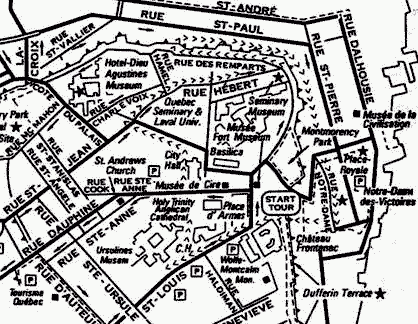 Old Quebec Walking Tour
Fast Facts: Quebec is North America's only walled city and has a uniquely European flavor. It has been named as a World Heritage Treasure by UNESCO due to its history and architectural heritage. Quebec is truly French, with 95% of the city's 500,000 residents speaking the language. The dialect is uniquely French-Canadian, and that's part of the charm. Situated on the banks of the St. Lawrence and extending up the cliff over Cap Diamant, the upper and lower Vieux-Quebec or Old Quebec can be walked extensively in a day, with time for stops at the major sites, museums, and busy commercial areas.
The winding cobbled streets are flanked by 17th and 18th-century stone houses and churches, graceful parks and squares, and countless monuments. The cuisine is also one of Quebec's treasures and its cafes allow you to soak in the ambiance while enjoying a croissant and a steaming cafe au lait. The city's symbol is hotel Château Frontenac, which also affords the best city and river views.

Useful WWW sites for Quebec:

Quebec B&Bs: use the search block for Quebec, Canada
Quebec Reservations: dining and lodging