Provence to Munich


Unique European Auto Tour

In planning our last trip to Europe, my wife and I wanted to explore remote Provencal hill towns, sample the local wines, enjoy the open-air markets, and experience the unique French ambiance. We also wanted to visit Germany's Bavaria and neighboring Austria's Tyrol region, including a visit to famous Neuschwanstein Castle. While we were at it, we would be sure to visit a few friendly Bavarian beer gardens.

Train and bus travel would be too limiting for the remote areas that we wanted to explore, so we opted for an auto rental that we could pick up in France and return in Germany. We were able to find an open-leg air routing from the U.S. with flights available into Lyon, Marseilles, or Nice and a return from Munich. The upside to this plan was that we could spend several days on Lake Geneva in route and experience the best that French-speaking Switzerland has to offer at Lausanne, Montreux and nearby alps villages. Each of the four major destinations on our route was separated by no more than a half-day of comfortable driving. The map below shows the resulting itinerary, one of the most rewarding and relaxing multi-cultural European tours that we've experienced. You can plan a similar tour to best match your own vacation dreams.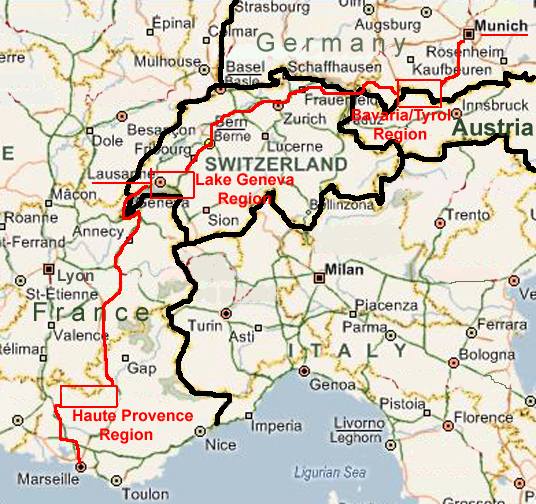 Provence to Munich Itinerary
Come along and join in the fun from Provence to Munich: the villages of France's Haute Provence: Switzerland's Lausanne and neighboring towns on Lake Geneva; alp villages in Austria's Tyrol and Germany's Bavaria regions; and pedestrian- and cyclist-friendly Munich.
Haute-Provence Villages
| | | |
| --- | --- | --- |
| Ancient Banon Gate | We had read the Peter Mayle series of books on Provence and had visited some of his preferred villages on previous trips. This time we wanted to explore areas in Haute Provence further off the tourist path, higher into the hills, where the lavender flourished and the air was clear during the warm summer months. We rented a country home with swimming pool for a week, only a kilometer's walk from the medieval hilltop village of Banon with its 1,500 residents. It was the perfect place for cycling tours past lavender fields, farms and ancient commune villages such as La Rochegiron and Saumane, each with less than 100 inhabitants. On days when we explored via car we'd be sure to visit an open-air market at one of the larger local towns or villages such as Forcalquier or Iles-sur-la-Sorgue. Nearby Banon had a colorful market day where the local vendors sold an incredible array of tasty herbs, nuts, vegetables, fruits, honey, wine and handcraft items. An added highlight was a canoe trip down the Sorgue River, shaded by huge trees that formed a cool canopy across the bubbling river. Our Haute-Provence week passed way too quickly. | Provencal Musician |
| | | |
| --- | --- | --- |
| Banon | Lavender Fields | Iles-sur-la-Sorgue's river |
Switzerland's Lake Geneva
A half-day drive north took us into Switzerland where we stayed at a hotel in the lakeside town of Lausanne. The steep town streets ran up from Lake Geneva via sets of stairways into the old medieval town section where we enjoyed a multi-day town festival, including music, theater, and dance exhibitions. Walks and bicycle rides along the lake both east and west from Lausanne brought us incredible mountain views and a worthwhile visit to the International Olympic Committee's famous museum. Short car trips brought us to the town of Montreux on the far eastern end of the lake and an interesting visit to Chillon Castle, dating from the 11th century. The annual Jazz Festival was in full swing at Montreux and we enjoyed a number of stirring music sessions. Nearby alp locations such as Gruyere, famous for its cheese, and the Nestle chocolate factory also lured us to unforgettable samplings.
| | | |
| --- | --- | --- |
| Lausanne's castle and annual festival | Lake Geneva ferry | Chillon Chateau near Montreux |
Bavaria's Neuschwanstein
Another half-day trip east brought us into Austria's Tyrol region where we stayed at a B&B in Reutte. From here we were able to easily explore both the Tyrol and Germany's Bavarian Alps region. The highlight was a visit and hike around enchanting Neuschwanstein Castle, built by Mad King Ludwig in the 1800s. Other worthwhile sites were: the nearby luge course which we flew down in seemingly record time; Obergammau with its woodcarving craftsmen; Fussen with its cobbled streets, beautiful church, and adjoining country paths where we cycled and explored alpine lakes; and the 13th-century Ehrenberg castle ruins where we enjoyed a brisk climb up from Reutte for invigorating alp views.
| | | |
| --- | --- | --- |
| View from Neuschwanstein | Mad King Ludwig's Neuschwanstein Castle | Reutte viewed from Ehrenberg |
Munich
Munich demonstrated that it is the most comfortable large city in Europe. The huge pedestrian area ranges past the Town Hall's glockenspiel, the expansive and fun Viktualien outdoors market, many museums, and a wide array of shops, beer halls and coffee houses. We were pleasantly busy, yet relaxed in the friendly atmosphere. The Bavarians know how to have fun, and a visit to any beer house lets you join into the action. We also found Munich to be the perfect cyclist's city, with separate bike lanes on all the major streets. We rented cycles for two days and explored the town and the natural areas along the Isar River north and south of the city center. The Englischer Garten along the Isar was a great cycling spot with a good selection of beer gardens, many with jazz or oom-pah bands strutting their repertoires.
| | | |
| --- | --- | --- |
| Lakeside villa near Munich | Munich's Viktualien Markt | Prost! |
Three Weeks Already?
When the date for our return to the U.S. arrived we were asking ourselves how three weeks in Europe could have elapsed so quickly. Well, let's see, a week in Provence, 4 days in Lausanne, 4 days in Reutte, 5 days in Munich. Hmm… Well maybe we should have made this trip just a little longer. It's too much fun to squeeze into just three weeks. There's always a Next Time!
When You Go
Planning a European auto trip is half the fun of the experience and we've found that the best source for European travel information is the Rick Steves series of guidebooks. We utilized the following books and also purchased the appropriate Michelin maps for our travels.
Rick Steves' Provence and the French Riviera
Rick Steves' Germany and Austria
Rick Steves' Switzerland
Rick Steves' Germany & Austria
Although our travels were in July, this type of itinerary would be great from June until early October.
Article by Les Furnanz
Photos by Rita Furnanz